Officially there are no black chemistry or physics professors in the UK, which many scientists say is all the data needed to conclude that UK science is institutionally racist.
The Royal Society, the world's oldest scientific academy, which aims to promote excellence in science, has set out its mission to change this with a new funding scheme to help black PhD students make the leap into careers in academic research and hopefully, eventually, become professors.
For today's newsletter, we explore why there are so few black British scientists, and whether the new scheme – that will provide up to £690,000 in funding to five fellows a year – will make a difference.
Helping us navigate the issue are Dr Mark Richards, a physics researcher and lecturer at Imperial College London, and Professor Robert Mokaya, an expert in materials chemistry at the University of Nottingham. Yes, I know I just said there are no black chemistry professors, but I'll explain – after the headlines.
Five big stories
Environment | Rishi Sunak is planning to row back on some of the government's net zero policies as the Conservatives attempt to create a dividing line with Labour before the next election. The Guardian understands that the move, expected to be announced this Friday, could include delaying a ban on the sale of new petrol and diesel cars and watering down the phasing out of gas boilers.

Ukraine | Volodymyr Zelenskiy has told the UN general assembly that Russia is committing genocide in Ukraine. Appearing in the assembly chamber in New York for the first time in person, the Ukrainian president used the opportunity to try to galvanise support for his country.

Birmingham | The government will send commissioners to run Birmingham city council, after the authority declared itself in effect bankrupt. Britain's largest local authority declared it did not have the resources to balance its budget, and has a shortfall of £87m for the current financial year, projected to rise to £165m in 2024-25.

Immigration | The home secretary, Suella Braverman, halted annual inspections of detention centres such as Brook House last year, shortly after ministers received direct warnings that vulnerable people such as torture victims had been left unprotected, the immigration watchdog has disclosed.

Ken Livingstone | Former Labour MP and mayor of London, Ken Livingstone, has been diagnosed with Alzheimer's disease, his family has announced. The 78-year-old is being "well cared for by his family and friends" as he lives a "private life" in retirement, they said in a statement.
In depth: 'It's a statistic that I don't like, and I want us to change'
"I have been a professor of chemistry since 2008," says Prof Mokaya. "But, officially, I don't exist." This is because the Higher Education Statistics Agency (Hesa), which collects the stats, rounds the numbers to the nearest five. "In this case, I am rounded down to zero."
Mokaya (above left), who came to the UK from Kenya as a PhD student in 1989, says there is a chance he might not be the only black chemistry professor in the UK. "But if there are others, I haven't met them. It's a statistic that I don't like, and I want us to change."
It's just as bad in physics, where there are also no black professors – both officially and perhaps actually. Dr Richards (above right), who is one of the country's leading physicists and co-founded a collective to promote black people working in the field, says he can't think of any black physics professors. "There are zero, unless there is one hiding in a maths department somewhere."
To put those numbers in context, there are, according to Hesa, a total of 520 chemistry professors, and 825 in physics. The situation is (a little) better in biosciences where there are five black professors among 1,345, and engineering, which has about 20 black professors out of 1,730.
Among all the sciences, there are a total 70 black professors (0.6% of the total). Of those 70, just 10 are women. Black people make up 4.2% of the population in England and Wales, according to the latest census.
---
Why aren't there more black scientists?
"It's complicated," says Richards, whose work focuses on using light to find particles hidden in the atmosphere. "But, most of it, I think, comes from being from a minority group and not knowing what routes are open to you, or having anyone to advocate for you.
"If you're from a marginalised group, without networks, it is very easy to be put off even if you're very good." The statistics show that the proportion of black people in science drops at every step of the academic ladder, from GCSEs, to A Levels, to undergraduate degrees, postgrads, PhDs, postdoc researchers, and, finally, professors – the most senior academic grade.
Richards, whose parents emigrated from Jamaica to the UK as part of the Windrush generation, says his interest in science can be traced back to when he was just two. "The rest of the family were downstairs, and suddenly there was a loud bang and they all ran upstairs to find me sitting in front of plug socket with a pair of scissors in my hands," he says. "I'd clearly watched my mum plug something in and wanted to figure out how it worked."
That got Richards, who was mostly brought up in a single parent household, labelled a "bad child". "But it was a product of my inquisitive mind," he says. "I always wanted to know how things worked, that's what got me into science."
He wasn't particularly studious, until an incident at school. "I must have been about 13 or 14 and we were doing a chemistry test at school. I got the top mark in the class, and it was the first time I had ever got the top mark in any class.
"Getting the top mark was a surprise to me, and also to the so-called 'boffins' who weren't very pleased. One of them put up his hand and asked the teacher if they could re-mark my work.
"The teacher shot that down pretty quickly, but they made it so I couldn't enjoy that one sweet victory."
Richards doesn't describe the incident as racist, preferring to call it "ignorance", but says the school, a comprehensive, was "full of prejudices, even from the teachers who had decided pretty quickly which students would be academic and which would be more vocational".
It was that incident that spurred Richards on. "I don't like unfairness, that's what drives me," he says. "I'm going to show you that people like me can achieve just as well as you can, if not better. And, it's what you need in academia, you are always having to prove yourself in one way or another. You need what I call academic resilience."
Richards, who features in Stormzy's children's book on modern superheroes, says he has always known there aren't many black scientists, but it was looking at the data that confirmed it.
"We looked at over 10 years worth of data, and the trends are stark – there is a huge attrition rate among black people," he says. "As a scientist, if the data is worse than you were expecting, your first reaction is 'maybe there is a problem with the method or the equipment'. But no, the stats are just really bad."
---
Tackling the problem
The Royal Society of Chemistry last year published a report – "Missing Elements" – that found racism is "pervasive" in the field. And warned that "exclusion and marginalisation are to a large extent normalised for many Black chemists and others from minority ethnic backgrounds". It introduced a support scheme to increase the number of black researchers in chemistry
The Royal Society, which is different and represent all sciences, has now gone further introducing a funding scheme to increase the number of black scientists at the very top of the academic pyramid.
From November, black PhD students will be able to apply for five new career development fellowships to "kickstart independent research careers" in science, technology, engineering or maths (STEM).
Richards is hopeful for the future. "We do now have some black British students, and it is important that they can see people who look like them," he says. "It is not uncommon to hear about people who have gone through their education without being taught by a single black teacher or lecturer.
"It's not a burden that weighs you down every day, but if you had one black lecturer or lab demonstrator it would give you some validation that, yes you do belong here."
What else we've been reading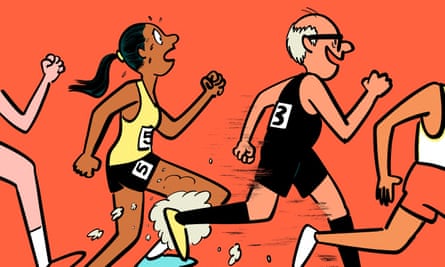 Could your prime still be ahead of you at the age of 40? Apparently so. Emma Beddington explores midlife and how ageing doesn't have to necessarily mean slowing down. Nazia Parveen, acting deputy newsletters editor

"I'm lesbian, I'm short, I'm fat, I'm Jewish, I'm Dickensian," Miriam Margolyes says as she lists some of the identity markers that could be used to describe the Bafta-award winning actor who speaks to Rhik Samadder about her new book. Rupert

Drew Barrymore's decision to continue her talkshow amid the writers' strike received such a backlash that she reversed it. But Arwa Mahdawi describes her subsequent video apology as a "terrible misstep". Nazia

Europe has a reputation for being good at trains, but Ajit Niranjan's report finds that the length of motorways in Europe grew 60% between 1995 and 2020 while railways shrank 6.5%. Rupert

It kicked off the reality TV boom and now it's coming back. Phil Harrison looks at how Big Brother changed TV for ever with the creators and stars of the original series considering its impact. Nazia
Sport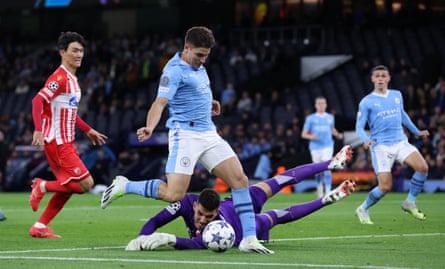 Champions League | It took two Julián Álvarez strikes minutes into the second half for Manchester City to regain momentum and finish up 3-1 against Red Star Belgrade. Celtic had two players sent off within five minutes of each other as they opened their Champions League campaign with a 2-0 defeat by Feyenoord in Rotterdam. Newcastle's 0-0 draw against AC Milan was overshadowed after one of their fans was stabbed in Milan on Monday night. He is said to be in a stable condition.
Cricket | Leicestershire, powered by victory in the One-Day Cup, and needing a win to stay in the promotion hunt, reduced Yorkshire to 155 for 9 at Grace Road. Worcestershire, their rivals for promotion, made a bright start against Durham, while Adam Rossington, who at last wrestled off a difficult season with a hundred, put Essex in a good position against Hampshire.
Football | The Spanish government has heavily criticised the country's football federation over its handling of the boycott launched by top female players. The governing body was accused of making "a fool" of the country.
The front pages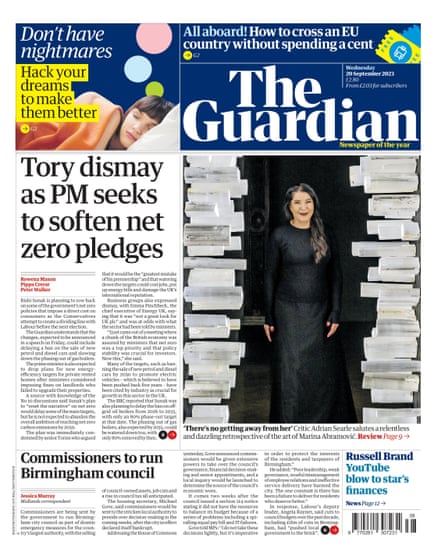 The Guardian leads with "Tory dismay as PM seeks to soften net zero pledges". The Times has the same story: "Sunak set for retreat on climate promises", while the Telegraph says "Sunak set to push back petrol car ban". The Mail characterises the news as "Common sense on net zero".
The i reports "Starmer set to reject EU's new masterplan". The Mirror leads on comments from the education secretary under the headline "Tory: Kids are happier in portacabin classrooms". Finally, the Sun cover its own "Who cares wins awards", with the headline "The Great Great Show".
Today in Focus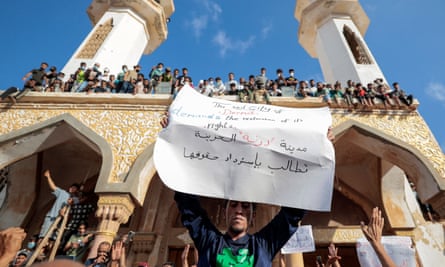 The destruction of Derna
On 10 September, a flood swept through the Libyan city of Derna when two dams collapsed during a powerful storm. According to the Libyan Red Crescent, at least 11,300 people died and more than 10,000 people are missing. The World Health Organization has confirmed 3,922 deaths.
"The city's lost its heart," Johr Ali, a Libyan freelance journalist, tells Michael Safi. "The city's lost about 25% to 30% of its buildings, of its people, of its streets, banks, schools. That all was taken by the flood and thrown into the sea."
Johr says the people of Derna had been concerned about the dams for a long time and they were not properly maintained. "Corruption is one of the main reasons that everything happened," he says. "Much of it absolutely could have been avoided."
Cartoon of the day | Martin Rowson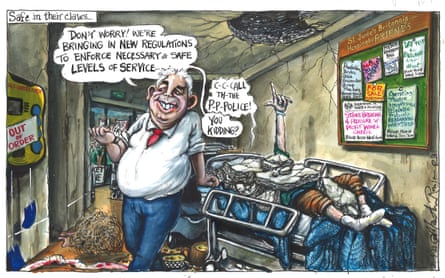 The Upside
A bit of good news to remind you that the world's not all bad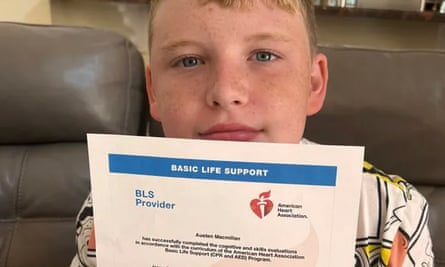 We have long been warned about the dangers of excessive screen time for children, but in Wellington, Florida, hours spent watching Netflix proved a lifesaver for 30-year-old behaviour technician Jason Piquette. 12-year-old Austen Macmillan was swimming in the family pool as part of his work with him, when they started competing to see who could hold their breath underwater longer, keeping track with a timer. Austen discerned something had gone drastically wrong when he saw the timer reach about five minutes on one of Piquette's turns.
Austen dragged him out of the pool, attempted to call for help, and when that failed did the only thing he could think of, based on what he'd seen on Stranger Things, and started to perform chest compressions. After a few minutes of compressions, and one strike to the chest strongly reminiscent of David Harbour's actions on the show, Piquette regained consciousness, and went on to make a full recovery. "I was a little hesitant about him watching [Stranger Things]," Macmillan's mother told the Guardian, citing the show's science fiction-horror premise. "But I'm definitely glad that I let him."
Sign up here for a weekly roundup of The Upside, sent to you every Sunday
Bored at work?
And finally, the Guardian's puzzles are here to keep you entertained throughout the day – with plenty more on the Guardian's Puzzles app for iOS and Android. Until tomorrow.
Denial of responsibility!
Secular Times is an automatic aggregator of the all world's media. In each content, the hyperlink to the primary source is specified. All trademarks belong to their rightful owners, all materials to their authors. If you are the owner of the content and do not want us to publish your materials, please contact us by email –
seculartimes.com
. The content will be deleted within 24 hours.