For years, September's arrival equalled a feeling of "back to school dread". No more bank holidays and long summer evenings, sitting outside and lazily drinking rosé. I mournfully focused on the shortening days and reluctant need for a coat, clinging on to wearing cardigans for as long as possible in protest. But there is, of course, beauty in the change in season. And I have learned to celebrate my favourite thing this time of year has to offer, and that is its produce. To soften the blow, nature gives us the best it has. Sure, we have to temporarily say goodbye to mounds of strawberries, jersey royals and peas, but instead here come cascading beans, golden corn and stone fruits. Yes, we might need to actually start wearing closed-toe shoes again, but it's OK, because with that comes cosier indoor dining and a bounty of leafy greens, darkening plump berries and sculptural, curvaceous squashes.
And this is what excites me after a summer of being sociable and eating out. I actually want to host again. To take advantage of what is abundant and to get back in the kitchen, because if it could speak, I'm sure my kitchen would tell me it has felt a little neglected over the last few months.
There is genuinely no better time to fall back in love with cooking, and these recipes are just a few of the ways that I will be welcoming the inevitable change in rhythm and energy that September brings.
Leek and kimchi soup with blue cheese croutons
The inspiration for this comforting recipe came from my favourite toasted sandwich (three cheese and kimchi) and a love for a crouton-topped soup. If you are imagining an inspired French onion soup, you are on the right track.
Serves 4
leeks 4
onions 3
garlic 3 cloves
olive oil 2 tbsp
unsalted butter 60g
sea salt and freshly ground black pepper
kimchi 200g
bay leaf 1
vegetable stock 1 litre
baguette 8 slices
gorgonzola 120g
mature cheddar 120g
Trim and slice the leeks, giving them a good wash in a colander to get rid of any grit. Peel and finely slice the onions and garlic. Place a large saucepan or casserole on a medium-low heat and add the olive oil and half of the butter, and all the sliced vegetables. Season with sea salt and ½ teaspoon of freshly ground black pepper. Sauté for 30 minutes, stirring occasionally, until everything has cooked down and is sticky and golden in colour. If your kimchi is made using quite large pieces, run your knife through it to shred it, then stir through with the bay leaf and vegetable stock. Bring to the boil, cover with a lid and reduce to a simmer for 15 more minutes.
When the soup is ready, preheat your grill to high. Butter the baguette. Coarsely grate the cheddar and slice the gorgonzola the best you can. Decant the soup between 4 bowls and top each bowl with 2 slices of buttered baguette, and then top with the cheeses evenly divided between the bowls. Pop the bowls under the grill for a few minutes, until the cheese is molten, bubbling and oozy.
Serve, carefully, straight away.
Roast chicken legs, plums and marsala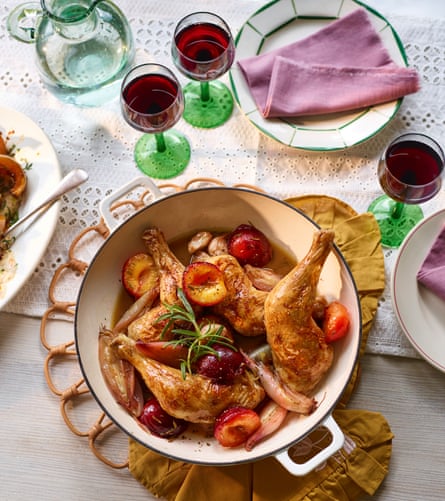 This is one of those gloriously straightforward dinners that is weeknight worthy but also elegant enough to serve to friends. Serve with crushed potatoes, or crusty fresh bread to mop up the sticky, gently spiced marsala baked plums. A bitter leaf salad would be welcome, too.
Serves 4
banana shallots 6
plums 350g
rosemary 4 sprigs
garlic 4 cloves
chicken legs 4
sea salt and freshly ground black pepper
unsalted butter 25g
marsala 175ml
star anise 1
cinnamon 1 stick
Preheat your oven to 180C fan/gas mark 6. Peel and halve the shallots. Halve the plums and remove their stones. Pick the rosemary leaves, and roughly chop. Crush the garlic cloves, still in their skins. Generously season the chicken legs. Place a large, ovenproof frying pan or wide, shallow saucepan over a medium heat and add the butter. Fry the chicken legs, skin side down, for around 6-8 minutes, until they are deeply golden. Remove the chicken legs and place on a plate. Add the shallots, chopped rosemary, halved plums and crushed garlic. Pour in the marsala, add the star anise and stick of cinnamon and season well. Bring to the boil, then nestle in the chicken legs, skin side up. Place the pan in the oven and roast for 45-50 minutes, basting once or twice, until the chicken skin is crispy and the base is rich and reduced.
Runner beans, preserved lemon and feta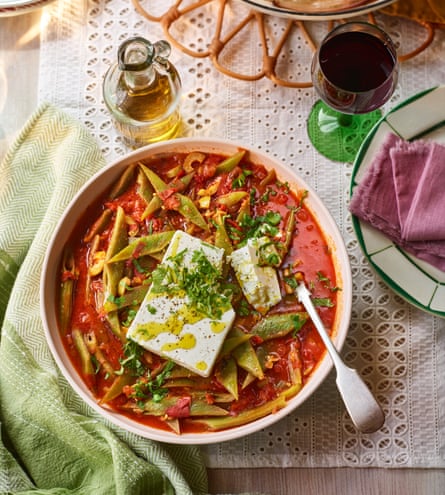 This recipe works beautifully with any beans you can get your hands on, but I have a particular soft spot for runner beans. Make it ahead of serving, even the day before if possible, and it'll reward you for the resting time. Serve on a paper tablecloth, with a generous dressing of peppery extra virgin olive oil and pretend you are on a Greek island.
Serves 4
runner beans 600g
coriander ½ bunch
garlic 2 cloves
red onion 1
pitted green olives 125g
ripe vine tomatoes 500g
preserved lemon 1
extra virgin olive oil 5 tbsp
tomato puree 1 heaped tbsp
sea salt and freshly ground black pepper
feta 1 x 200g block
Trim the runner beans, remove the strings and cut on the diagonal into 3-4cm lengths. Finely slice the coriander stalks, and roughly chop the coriander leaves.
Peel and finely chop the garlic and red onion. Roughly chop the olives. Finely chop the tomatoes. Halve the preserved lemon, remove and discard the middle, and finely chop the skin.
Place a wide saucepan or large frying pan over a medium-low heat and pour in 3 tablespoons of the olive oil. Fry the chopped garlic and onion for 10 minutes, until starting to soften, then add the chopped coriander stalks, chopped olives, preserved lemon and tomato puree. Fry for a minute, then add the chopped tomatoes and runner beans. Season generously with sea salt and freshly ground black pepper, and top with around 300ml of water, so that the beans are just covered. Bring to the boil, then cover and simmer over a low heat for around 40 minutes, until the beans are tender. Remove the lid, turn up the heat and cook for a further 5-10 minutes, so that any residual water cooks away.
Serve by topping with the block of feta, drizzling with the last 2 tablespoons of olive oil and sprinkle with the chopped coriander.
Roasted squash with tahini and chilli crisp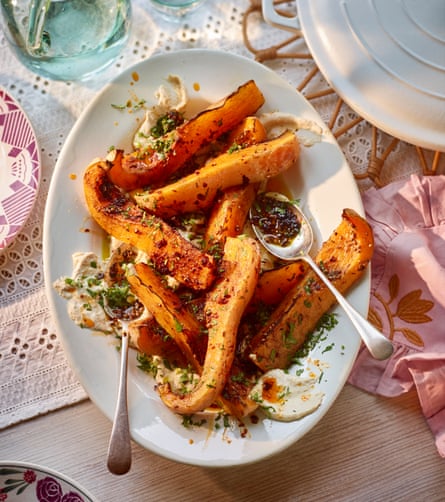 The balance of spices and textures in this autumnal dish makes this an exciting side dish, but also bold and brave enough to be a great vegan main offering. The whipped tahini alone is an excellent dressing, and a great technique to have in your arsenal.
Serves 4
butternut squash 1 small, around 900g
olive oil 2 tbsp
coriander seeds 1 tbsp
cumin seeds 2 tsp
ground cinnamon 1 tsp
sea salt and freshly ground black pepper
tahini 125g
garlic 1 clove
lemon 1
extra virgin olive oil 2 tbsp
ice cubes 2
coriander ½ bunch
chilli crisp oil 3 tbsp
Preheat your oven to 180C fan/gas mark 6. Trim the butternut squash and cut in half. Scoop out the seeds, then cut the squash into long thin boats. You will end up with around 8 slices. Place in a large roasting tray and drizzle with the olive oil. Lightly crush the coriander and cumin seeds, and sprinkle over the squash with the ground cinnamon. Season with sea salt and freshly ground black pepper and rub all the flavours into the squash. Lay the slices of squash out in the tray, skin side down if possible, and place in the oven. Roast for around 45–50 minutes, until the squash is charred but also tender.
While the squash is cooking, make the tahini dressing. Place the tahini in a bowl or jug. Peel and finely grate in the garlic. Squeeze in the lemon juice, season generously with sea salt and freshly ground black pepper. Add the 2 ice cubes, extra virgin olive oil and 2 tablespoons of cold water and blitz with a stick blender until you have a pale, whipped tahini dressing. Taste and adjust the seasoning.
Spoon on to a serving platter. Finely chop the coriander and stir through the roasted squash, then transfer to the platter and place on top of the tahini dressing. Drizzle over the chilli crisp oil and serve straight away.
Almond and blackberry tosca cake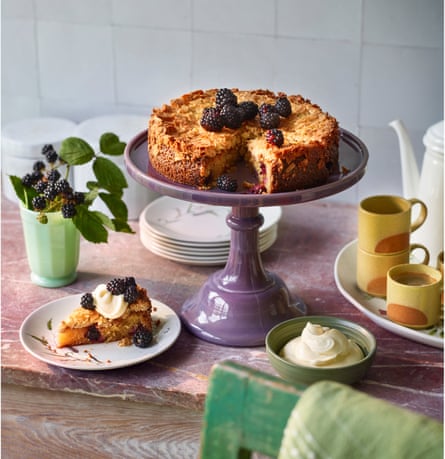 This autumnal Swedish tosca cake is perfect for fika (the Swedish term for a break in the day, accompanied by coffee and cake). The caramelised florentine style topping, damp sponge and tartness from the blackberries is a dream at any time, but throw in a dollop of creme fraiche and you have a fancy finish for a dinner party.
Serves 8-10
unsalted butter 250g
plain flour 130g
ground almonds 50g
baking powder 1 tsp
fine sea salt a few pinches
eggs 2 large
caster sugar 230g
double cream 110ml
vanilla extract 2 tsp
blackberries 100g plus extra to serve
flaked almonds 130g
Preheat your oven to 160C fan/gas mark 4. Grease and line the base of an 20cm springform cake tin. Melt 130g of the butter and leave to one side. Whisk together 90g of the plain flour with the ground almonds, baking powder and a good pinch of salt. In the bowl of a freestanding mixer, or large mixing bowl, whisk together the eggs with 130g of the caster sugar until pale and light. Stir in cooled melted butter, 80ml of the double cream and the vanilla extract. Then fold in the mixed dry ingredients. Spoon into the prepared cake tin. Toss the blackberries with 10g of the plain flour, then evenly dot into the cake mixture. Place the cake in the oven and bake for 30 minutes.
When the cake is almost ready, place the last 120g of butter into a small saucepan with the remaining 100g of the caster sugar, 30g of plain flour, 30ml of double cream (equivalent to 2 tbsp) and a good pinch of the fine sea salt. Place on a medium heat until the butter has melted, and stir in the flaked almonds until you have a smooth pale caramel. Remove the cake from the oven after 30 minutes and evenly spoon over the almond caramel. Return to the oven, turn the heat up to 180C fan/gas 6, and bake for a further 25 minutes, or until the flaked almond caramel topping is a golden brown. You can check with a skewer, but the cake will be ever so slightly damp. Run your knife around the inside of the tin, leave to cool in the tin for 5 minutes, then transfer to a cooling rack.
Serve with a generous dollop of creme fraiche and more blackberries on the side.
Georgina Hayden's latest book is Nistisima (Bloomsbury, £26)
Denial of responsibility!
Secular Times is an automatic aggregator of the all world's media. In each content, the hyperlink to the primary source is specified. All trademarks belong to their rightful owners, all materials to their authors. If you are the owner of the content and do not want us to publish your materials, please contact us by email –
seculartimes.com
. The content will be deleted within 24 hours.