Inside a vast new warehouse in the California town of Tracy, tall towers of trays containing a gray powder are stacked in neat rows.
It's all part of Heirloom, a company that promises to use limestone to directly remove carbon dioxide from the air and store it deep within concrete, keeping it out of the atmosphere. The facility – the first commercial direct air capture (DAC) plant in the US – opened last week.
Capturing and stowing away carbon from the air was once considered a far-fetched idea. Today, scientists and political leaders see it as an inevitable tool in mitigating the climate crisis. Money from both private and public sources is pouring in, and the Biden administration has committed to spending at least $3.7bn to kick-start DAC and other carbon-removal projects across the United States.
Heirloom's facility uses limestone – the second most abundant mineral on Earth – to sponge up carbon from the air. The process begins when industrial kilns heat the limestone to 1,650F (899C), which breaks it down into carbon dioxide and calcium oxide.
The carbon dioxide is then stored in con​​crete, which can be used for construction projects. The remaining powder – calcium oxide – is spread on trays that are sprayed with water and sit in the open air and absorb carbon, which naturally binds to the gas. The process then begins all over again, using heat to separate out the newly captured carbon.
Other direct air capture systems use huge fans to pull air, and Heirloom says it uses a few but that their system takes less energy because it leverages limestone's natural ability to pull carbon molecules out of the air.
The Heirloom chief executive, Shashank Samala, says he was inspired to climate action by his childhood in south-east India, where he grew up among heatwaves and droughts, and hopes the warehouse will be the first of many. "For me, it's really important to work on a solution that actually has a meaningful, scaled impact on climate change, to actually make a dent on this," he said.
Making a noticeable dent could take some time. The facility can absorb a maximum of 1,000 metric tons of CO2 per year – just a fraction of the annual emissions from a gas-fired power plant. The company hopes to remove 1bn tons of carbon dioxide by 2035, though Samala admits scaling up will be a challenge: to reach the company's goals in the next 12 years, they'll have to increase their capacity three times each year.
All that scaling up will also take money, and tech firms are going in for direct air capture: Microsoft has signed a long-term contract with Heirloom to suck up to 315,000 metric tons of CO2, to offset the tech company's own emissions and reach its net-zero goals. A fund called Frontier has pledged $46.6m to Heirloom and another carbon-sucking venture.
Heirloom says it's powered by renewable energy from a local provider, and that it won't take investments from oil and gas companies. One use for carbon captured from DAC plants is to enhance oil extraction by injecting carbon into oil wells to make them more productive, but that doesn't align with the company's values. "We felt the space needed leadership and values and we wanted to make sure that the carbon dioxide pulled from the air is not used as an excuse to put more CO2 into the air," said Samala.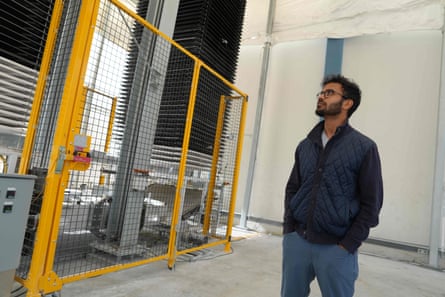 Heirloom has received a $600m award from the Department of Energy to build a hub in Louisiana that can process up to a million tons a year. The facilities are modular, Samala says, so it's a matter of putting limestone on larger trays and stacking more trays.
There are still hurdles in making meaningful contributions to lowering carbon dioxide, says Farzan Kazemifar, a mechanical engineer at San José State University. Direct air capture is an expensive and energy-hungry process. Because only a tiny fraction of carbon is removed from the atmosphere, it takes a lot of air – and a lot of powerful fans – to push through enough material to get the carbon out.
"The atmosphere is big, and any direct air capture is little, and the economics are still challenging," said Brad Sageman, an earth and planetary scientist at Northwestern University. But it's important to pursue every possible solution to the climate crisis, he says, "because even if we succeed in applying all of them, we still aren't sure whether we're going to be able to fix the problem".
Samala says he hopes the world starts to take notice of direct air capture and the role it can play; just as city governments pay to pick up trash, people need to think about paying for removing the carbon they produce. "We need to pay for the CO2 we are putting out there," he said.
Denial of responsibility!
Secular Times is an automatic aggregator of the all world's media. In each content, the hyperlink to the primary source is specified. All trademarks belong to their rightful owners, all materials to their authors. If you are the owner of the content and do not want us to publish your materials, please contact us by email –
seculartimes.com
. The content will be deleted within 24 hours.