José Pizarro's pan-fried sprouts with crisp ibérico ham and a sweet sherry vinegar dressing (pictured above)
Living in the UK for so many years I have grown to love brussels sprouts. They always make me think of cold, frosty winter days and especially Christmas. I am never without a leg of 5J jamón ibérico at Christmas as it is so versatile with its golden fat and nutty flavour. It makes a great pairing with sprouts instead of the traditional bacon, and is a fantastic way to bring my two countries together in one fabulous dish.
Serves 8
brussels sprouts 1kg, prepped, halved if very large
olive oil 1 tbsp
fresh rosemary 1 sprig
sliced iberico ham 150g, shredded
roasted peeled chestnuts 100g
sherry vinegar 2 tbsp
honey 1 tsp
extra virgin olive oil 3 tbsp
Bring a large pan of water to the boil, add the sprouts and cook for 2-3 minutes until just tender.
Meanwhile, heat the oil with the sprig of rosemary over a medium heat, then fry the iberico ham until it starts to crisp. Add the chestnuts, toss together to warm through, then add the drained sprouts to the pan and mix well.
In a bowl, blend the sherry vinegar and honey with plenty of seasoning, then whisk in the extra virgin olive oil. Spoon the sprouts into a serving bowl, discarding the rosemary, pour over the dressing and serve.
José Pizarro is owner of José Pizarro restaurants; josepizarro.com
Irina Georgescu's baked sauerkraut with crispy onions
Be adventurous this Christmas with a side dish inspired by the festive flavours of eastern Europe. Tangy and seriously savoury, it goes best with roast pork, goose or duck. You can save time by baking the sauerkraut in advance – it will taste even better the next day.
Serves 4-6
For the onions
brown onions 2 large
vegetable oil for frying
smoked paprika 1/2 tsp
For the baked sauerkraut
sauerkraut 750g, drained of brine
tomato passata 150ml
sunflower oil 75ml, plus extra for drizzling
smoked paprika 1 tsp
ground black pepper 1/2 tsp
bay leaves 4
thyme 6 sprigs
rosemary 2 sprigs
Heat the oven to 180C fan/gas mark 6. Line a 30cm x 22cm roasting tin with foil and set aside. Peel and finely slice the onions. Cover the base of a large frying pan with a generous layer of oil and heat well. Add the onions and cook on medium to high heat for 25 minutes. When they start to change colour, turn down the heat and stir, turning them often so they don't burn. Cook until they have a rich golden colour. Take the pan off the heat and stir in the paprika while the oil is still hot. Put the onions in a sieve placed over a bowl and shake them to avoid sticking.
Meanwhile, mix the sauerkraut with the rest of the ingredients. Spread it evenly in the roasting tin, drizzle with more oil and bake for 25 minutes on the lower shelf. Transfer it to a serving dish, spread the crisp onions on top and serve.
TIPS You can prepare the sauerkraut a day in advance. Before serving, reheat gently in a low-temperature oven or in a pan while you cook the onions. You can also serve it as an extra side dish with roast potatoes for additional texture. Use any leftover sauerkraut in cheese toasties on Boxing Day.
Irina Georgescu's latest book is Tava (£27, Hardie Grant), winner of a 2023 James Beard award
Trine Hahnemann's classic Danish Christmas salad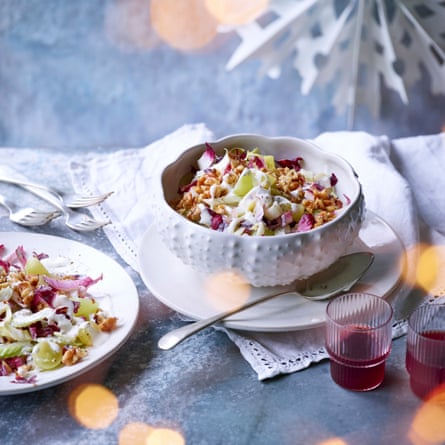 Chicory is called julesalat in Danish, which translates as Christmas salad. This recipe is one I have known all my life. When I met my husband and we started on our own Christmas traditions, mostly inspired by me, he only asked for one thing, that the julesalat would be part of our Christmas dinner. It is perfect with roast duck or turkey. Or with a nice nut vegetable loaf. Or salt-baked celeriac. Leftovers can be served with cold cuts the next day.
Serves 4-6
green grapes 300g
chicory 1-2, about 400g
celery 100g
walnuts 75g
salt and freshly ground pepper
For the dressing
lemon juice 3-4 tbsp
lemon zest 1 tbsp
caster sugar 1 tsp
single cream 200ml
crushed black pepper 1 tsp
salt and freshly ground pepper
Take the green grapes and cut them in half, take out seeds, and place in a big mixing bowl. Cut the chicory in 5mm slices and the celery in 2-3mm slices, and place in the mixing bowl.
Toast the walnuts on a dry pan until they start to colour. Cool down, then chop them roughly and add to the salad. Gently fold the salad, and season to taste with salt and pepper.
In a small mixing bowl whisk the lemon juice, lemon zest and caster sugar until the sugar is dissolved. Now stir in the cream and crushed black pepper, and season with more lemon juice if the dressing needs to be more acidic.
Just before serving add the dressing to the salad, and gently toss. Season to taste with salt and ground pepper.
Trine Hahnemann's latest book is Simply Scandinavian (Quadrille, £27)
Tarunima Sinha's tamatar ka tak – tomatoes with mustard and garlic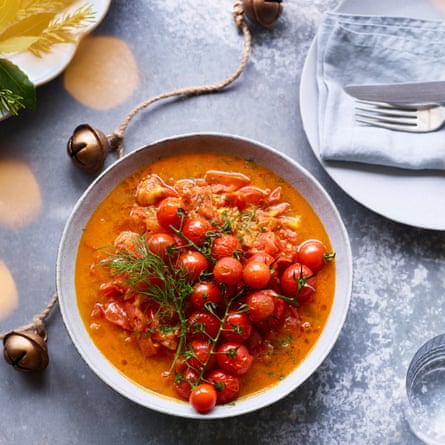 I don't know the origin of this side dish, as I haven't found it served anywhere except in my home and on my grandmother's side of the family. I believe it came with my grandmother when she got married and it may have been prepared at her family home, though a mustard and tomato combination is popular in eastern cuisines of India.
In our home, no celebratory meal or festival feast is complete without a bowl of tamatar ka tak on the side. It is sharp with the pungency of mustard and sour tomatoes. It adds a burst of flavour, colour and vibrancy to any festive meal. I have kept the tradition by always having a bowl at my Christmas table.
Traditionally, local sour tomatoes, mustard oil and freshly pounded mustard seed paste is used but the version adapted for my London kitchen uses the cheapest sour tomatoes, extra virgin olive oil and readily available mustard and mustard powder. It works a treat in recreating the flavours, topped with some roasted cherry tomatoes on the vine and served with a sprinkle of sea salt and good extra virgin olive oil. I use olive oil as mustard oil is not easily available and it may also be a little strong for taste buds here.
Serves 6-8
For the tomato tak
tomatoes 10-12 medium (about 1kg)
garlic 2-3 cloves
extra virgin olive oil 2 tbsp
sea salt flakes 1 tbsp
turmeric powder 1 tsp
red chilli powder 1 tsp (optional)
mustard powder 2 tsp (I use Colman's)
smooth mustard 3 tsp (I use Colman's English)
For the topping
cherry tomatoes on vine 2 sprigs
extra virgin olive oil 1 tbsp
sea salt ¼ tsp
To finish (optional)
fresh dill a few sprigs
extra virgin olive oil about 2 tbsp, to drizzle
sea salt flakes 1/4 tsp
Chop the tomatoes into small pieces. Chop the garlic very finely. Don't use garlic paste here as it overpowers the dish. You just want the mellow garlic flavour to come through.
In a large wide sauté pan, add the 2 tablespoons of olive oil and the chopped tomatoes and garlic.
Place on the hob and cook on medium heat till the tomatoes are softened but still keeping some texture, about 10 minutes.
Add the salt, turmeric, chilli powder, mustard powder and mustard. Give it a gentle stir and cook for a further 7-8 minutes, till the mixture is slightly thickened.
Remove the pan from the heat. You want to keep the texture and not overcook the tomatoes, because you still want to keep the sharp tanginess.
At this stage, once cooled, the tomato tak can be stored in the fridge for 5 days and finished with the steps below when you are ready to serve. This makes it a great make-ahead dish.
To make the cherry tomato topping, place a frying pan on high heat. Add the cherry tomatoes still on the vine. Add the olive oil. Cook them until slightly softened and just bursting, but holding their shape, about 7-8 minutes.
Remove from the heat and sprinkle over some sea salt flakes.
You can also cook the cherry tomatoes in the oven, if your oven is already on for something. To do that, place the tomatoes on an oven tray lined with tin foil, drizzle olive oil and place in the oven at 180C fan/gas mark 6. Cook for 7-8 minutes, then finish with a sprinkling of sea salt.
To serve, spoon the tomato and mustard mix into a wide shallow serving bowl. Pasta bowls work well. Top with the roasted cherry tomatoes. Drizzle with some olive oil and sprinkle over some sea salt flakes. Garnish with a few sprigs of dill.
TIPS This dish goes really well with any fish or shellfish, and especially well with salmon. It is also good served with roast chicken and cold cut meats.
You can use any leftovers the next day stirred through cooked rice, or even use it as a spread in sandwiches.
The tomato tak with some fried eggs makes a good version of shakshuka for brunch.
You can also make a curry by adding a quarter of a cup of water to the tomato tak, then adding 4 fillets of salmon. Cook on medium heat till the salmon is cooked through. Sprinkle with dill leaves and serve with boiled rice.
Make a quick tomato, potato and pea curry with any leftover roast potatoes (if you are lucky to have them) or with 200g of chopped boiled potatoes and a large handful of frozen peas. Add to the tomato tak with a quarter of a cup of water. Finish with some chopped dill leaves and chopped green chillies, and serve with flatbreads.
Tarunima Sinha is a food writer and the owner of cake delivery business My Little Cake Tin
Lerato Umah-Shaylor's yassa dauphinoise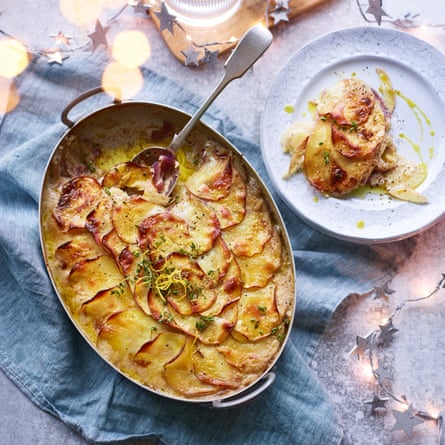 I adore this melange of luscious gratin dauphinoise, a French classic from the Dauphiné region, and the sunshine-filled yassa, a west African triumph that's native to Senegal, Gambia, Mali, Guinea and Guinea-Bissau. A potato dish with immense flavour.
Serves 4-6 with necessary seconds
For the yassa onions
cooking oil 2 tbsp
unsalted butter 75g block, divided into 3 equal pieces (keep 1 piece in the fridge until baking time)
black mustard seeds 1 tbsp, lightly crushed
red onions 3 medium, cut in ½cm slices
sea salt 1½ tsp
lemon juice of 1 (about 3 tbsp)
garlic 4 cloves, finely minced
fresh thyme 1 tbsp, chopped
chilli flakes 1 tsp
dijon mustard 2 tbsp
For the potatoes
potatoes 2kg, scrubbed (waxy yet creamy potatoes that hold their shape, such as vivaldi)
milk 300ml
sea salt 1 tbsp
coursely ground black pepper ½ tsp
bay leaves 2
bouillon stock cube 1
full fat creme fraiche 200g (the best you can find)
To serve
fresh thyme leaves
lemon zest about 1 tbsp
You will need a mandoline set to about 2-3 mm thickness and a 35cm wide, deep baking dish.
Begin by preparing the yassa onions. Gently warm the oil and 1 piece of the butter in a wide saucepan. Add the lightly crushed black mustard seeds and, as it begins to foam, add the sliced onions with the salt. Give it a good stir, coating the onions in all the fat and cover to cook on medium heat for about 10 minutes. This will trap in moisture, keeping the onions moist as they soften.
Check intermittently and stir. After 10 minutes, pour in the lemon juice, and stir in the garlic, thyme and chilli flakes. After a few seconds, add the dijon mustard with 60ml of water, stir, then cover to cook on low heat for another 10 minutes. Once cooked, take the pan off the heat, keep covered and set aside.
Prepare the creamy sauce for the potatoes by gently heating the milk with the salt, black pepper and bay leaves to infuse. Leave on low heat for 5-8 minutes, keeping a close eye while you quickly prepare the potatoes.
Set the oven to 180C fan/gas mark 6.
As my chosen waxy and buttery potatoes possess such light skins, I simply scrub them in a bowl of cool water and rinse. No need to peel. Using a mandoline, thinly slice the potatoes lengthways into a large bowl. Slicing this way will provide more surface area for overlapping and tightly packing the potatoes when layered. But there is nothing wrong with slicing into rounds.
Remove the bay leaves from the warmed milk, crumble in the stock cube and whisk it in with the creme fraiche. Pour enough of the creamy sauce over the potatoes in the bowl to coat every slice and mix gently.
Grease your baking dish generously with another piece of the butter, covering the entire surface and right up to its inner sides. Divide the yassa onions into three portions. Begin layering the potatoes as beautifully or as pedantically as you desire. After a quarter of the potatoes have been layered, spoon a third of the jammy onions with some of its butter over the entire surface. Continue to layer with more potatoes and onions, until you have successfully reached the third layer of onions and the final fourth layer of potatoes to finish.
Whisk the creamy sauce again and gently pour some more over the layered potatoes, just enough to cover the surface, with the top of the potatoes slightly peeking through the sauce. You will be left with about 100ml of unused sauce, depending on the depth and width of your baking dish. (See tips below for how to use any remaining sauce.)
Crank up the oven to 200C fan/gas mark 7 and bake in the middle for 50 minutes, uncovered. After 30 minutes, cut the remaining cold butter into small pieces and dot around the surface of your dauphinoise. Put back in the oven for the remaining 20 minutes.
Once cooked, your yassa dauphinoise will be bubbling at the sides, with a tempting golden crust on the top. Remove from the oven and leave to rest for up to 15 minutes before serving. Sprinkle with the lemon zest and scatter over fresh thyme leaves before tucking in.
TIPS Store any remaining creamy sauce in a glass jar or tub and use within 2-3 days. You can use it to baste all over a chicken for a simple roast, or heat gently and whisk in a teaspoon of cornflour to thicken and enjoy with a steak or roasted vegetables.
Lerato Umah-Shaylor is the author of Africana: Treasures, Recipes and Stories from Across the Continent (HQ, £22)
Denial of responsibility!
Secular Times is an automatic aggregator of the all world's media. In each content, the hyperlink to the primary source is specified. All trademarks belong to their rightful owners, all materials to their authors. If you are the owner of the content and do not want us to publish your materials, please contact us by email –
seculartimes.com
. The content will be deleted within 24 hours.