From the urban warzones of Shinobi and Streets of Rage to the high fantasy realms of Ys and Etrian Odyssey, Japanese composer Yuzo Koshiro has seen (and heard) it all. His engineering wizardry helped establish video game music as a force to be reckoned with, alongside its cinematic and televisual siblings. His foresight allowed him to retain the rights to his own music, in an industry that's often keen on prising the art from the artist. In so many ways, and across so many disciplines, Koshiro has always been ahead of his time.
And it all began with him secretly recording the music from his favourite games in arcades. "When I was a teenager, spending time at amusement arcades, game developers would only release a few video game titles in a year," he explains. "However, each game had its own distinct electronic sound that set them apart, creating an immersive atmosphere in the arcade halls." Koshiro – and many other Japanese game music enthusiasts of the era, he says – would go to a game centre with a tape recorder in hand, so he could thumb the cassette into a player at home and listen to the music whenever he wanted.
"I had a strong affinity for popular arcade game music, including well-known titles like Space Harrier, The Tower of Druaga, and Gladius," he explains, when I ask what tracks made it to his own, personal tapes. "I thoroughly enjoyed transcribing these iconic compositions by ear, programming them on the PC-8801SR [an 8-bit Japanese home computer], and writing the [music language]."
These games – and the short, catchy melodies and chirps that made up their soundscapes – would "significantly inspire" Koshiro, and become foundational for his early work; both 1987's Ys and Sorcerian had a similar sound to what he'd heard in the arcades and learned to replicate at home. Koshiro's skill was twofold: his natural ear for melody (enriched by lessons from his mother, a piano teacher; one of her later students was Studio Ghibli's Joe Hisaishi) was added to by his technical knowhow. Koshiro taught himself how to program: it wasn't enough to be able to write music, he needed to know how to make it.
"There came a turning point in my music style when I composed Misty Blue," he reflects. "Misty Blue incorporated elements of popular music, and disco, from the 1990s. During this time, I consciously began striving to differentiate my music from other major styles. I sought to make my compositions stand out by infusing them with distinctiveness and exploring new musical elements."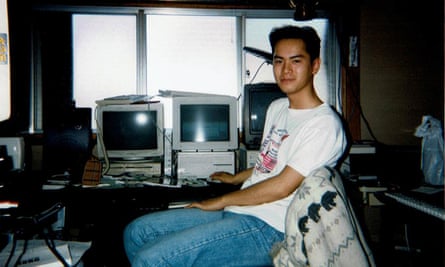 Misty Blue – a peculiar mystery adventure about a musician investigating the death of music producer, named after a 1966 Nashville country song by Bob Montgomery – was the perfect place for Koshiro to start spreading his wings. It was experimental, self-aware, and ahead of its time. "As Misty Blue gained popularity and received love from fans, I gained confidence in creating music with a cutting-edge style that other game music didn't have. This newfound confidence eventually led me to create the Streets of Rage series."
The connection between Misty Blue and Streets of Rage is clear. While the former took the high-energy beat and colourful expression of disco to form the backdrop of a moody murder mystery, the latter began with dance music. And ran with it. Koshiro – by now a successful composer, travelling the world – had heard early techno tracks in Los Angeles, and was inspired to fold them into his own style.
Mixing violence with voice, forcing the somewhat primitive Sega Genesis/Mega Drive sound processor to its limit with voice samples and meaty sound effects, Streets of Rage was monumental. And its influence that hasn't faded with time; only recently, Koshiro toured as a DJ, playing music from the series to packed nightclubs around Europe. His music is as popular with non-gamers as it is with his core audience.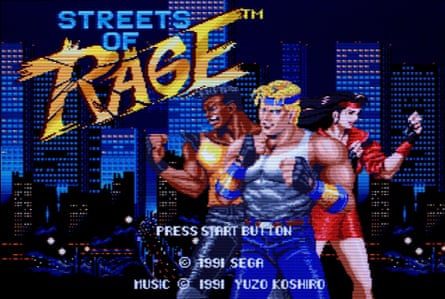 But it's not Streets of Rage that has Koshiro's heart. It may be his most famous work, often included in "best-of" lists and licensed for compilation albums, but his personal highlight lies elsewhere. "It's the Etrian Odyssey series that holds the most significance for me, because it reconnects me to my roots," he explains. The first three instalments of the niche Nintendo DS RPG series intentionally replicate the sound of 90s RPGs by using "FM synth" – a fully digital, and artistically expressive, way of programming audio that gives you more granular control over the resulting music.
"Etrian Odyssey brings back memories of my early composition career, when I worked with the YM2203 FM sound chip on Xanadu Scenario II," reflects Koshiro. "This return to FM synthesis in the process of creating music for Etrian Odyssey provided a valuable opportunity for self-reflection and rediscovery."
"[Back in the 90s], I had numerous aspirations in FM music creation. I strived to enhance the quality of my music and elevate my compositional skills to match the high standards set by arcade games of that era. However, I faced significant challenges and couldn't fully achieve my goals, back then.
"Returning to FM synthesis for the Etrian Odyssey music, I felt a renewed sense of determination. While I may not have completely realised all my aspirations, I was able to make significant progress towards them. This makes the Etrian Odyssey series even more meaningful to me, as it represents a fulfilling path towards the realisation of my musical goals."
Koshiro has always been committed to bringing his personal tastes into the mix, whether that was making arcade games sound "even more arcade-y" in Ys, or replicating the bass and beats of techno in Streets of Rage. In his eyes at least, Etrian Odyssey does that more faithfully than his previous works. So, if you've got a soft spot for Streets of Rage's impeccable aural background, you should do yourself a favour and give some of Etrian Odyssey's complex, melodic retro-flavoured soundtracks a spin, too. You may just find yourself an unexpected new favourite.
Etrian Odyssey Origins Collection is available now on PC and Nintendo Switch.
Denial of responsibility!
Secular Times is an automatic aggregator of the all world's media. In each content, the hyperlink to the primary source is specified. All trademarks belong to their rightful owners, all materials to their authors. If you are the owner of the content and do not want us to publish your materials, please contact us by email –
seculartimes.com
. The content will be deleted within 24 hours.