1 Stay outside as much as you can. Plan your day to include warming stops – places to quickly defrost before carrying on: cafes, libraries, pubs. Just watch out for ice on the wobble home if we have a wintry snap (remember to walk like a penguin to avoid slipping).
2 Get into journalling – but don't take it too seriously. Write any old nonsense, then read it back weeks later and you'll either find it hilarious or strangely insightful.
3 Soup! It's back! Enjoy the mind-purifying ritual of chopping the vegetables before savouring the delicious, warming fruits of your labour. As satisfying as hot chocolate, but with carrots.
4 Create your own book nook. You need a corner, a chair, a blanket, a promise to yourself that you won't be disturbed, and a banger of a novel.
5 Blast away blues (greys and browns) with some mood-boosting colour. Uniqlo's lambswool jumpers come in neutral and bright colours.
6 A solo trip to the cinema improves any dreary day. It's warm, it's quiet, they've got snacks. Lose yourself for three hours and emerge reborn.
7 Instead of inhaling your favourite show in one go, savour an episode at a time or set aside a night to binge-watch with friends. Cosy clothes and slippers are mandatory.
8 Indulge your year-round summer fantasies by bringing the picnic indoors – blanket on the living room floor, sandwiches with the crusts off, beige pastries, tartlets, vino. Best of all: no wasps.
9 Doing something outside that's fun and active means you'll barely notice the weather. Axe throwing! Winter survival skills! Horse riding! Dog sledding! Just trust us.
10 Climb something tall (from the inside, with permission, and entry fee paid), head to the viewing gallery and shout affirmations out into the cold, grey sky. For the less showy, a hill will do.
11 Too early to commit to a Christmas tree? A set of fairy lights draped here and there – increasing in volume, week by week – is an easy win for instant cheer and will help you reach peak grotto in time for the big day.
12 Buttoned-up, hanging loose, whatever – nobody with a wildly fluctuating internal thermostat should be without a cardigan, like this soft-knit number from Uniqlo.
13 Close all your browser tabs. Now. That risotto recipe has been open since March 2021 – let it go.
14 If you don't have a speaker for your mobile phone, get one. You'll finally be able to hear that podcast while clattering around the kitchen doing chores.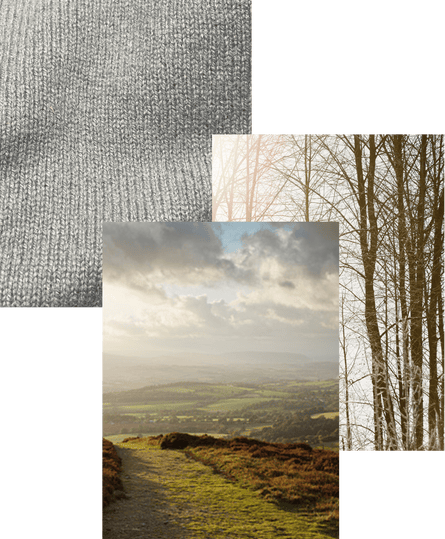 15 Sandwich bags over socks in wet weather stop toes from getting soaked. Nobody needs to know as long as the boots stay on!
16 Speaking of boots, polishing them a few minutes a week is calming, feels like an achievement, and will keep them in good shape for winter. As my dad says: "Look after the boots and the boots will look after you."
17 Go out and take a photo of the same place every week – a park, your local high street, even your garden – to document the season's effect on your surroundings. There's nothing like the evidence of time passing to help you value it more.
18 Don't let anyone tell you sunglasses are a summer-only vibe. What better way to protect your eyes from blustery winds and look devastatingly cool at the same time?
19 The sun might be a stranger, but don't give up on the SPF – those rays will get you somehow. Try a tinted one to look a little more alive.
20 Surprise yourself. Make an unexpected effort for low-key drinks. Get off the bus early on a whim. Phone someone you haven't thought about for ages.
21 Look up! Buildings tend to be at their most beautiful toward their summit. (Plus, you might get an early warning of that falling icicle.)
22 Going to bed at the same time every night, you'll soon find yourself waking up – naturally, peacefully, without your alarm's piercing klaxon – at the same time every morning.
23 Introduce a "fake commute" at the end of every day. Walk around the block or spend a few minutes reading on the sofa. Or for that authentic packed-train experience, read standing up.
Want to make life a little better this season? Snuggle up to the soft touch of men's and women's knitwear from UNIQLO
Denial of responsibility!
Secular Times is an automatic aggregator of the all world's media. In each content, the hyperlink to the primary source is specified. All trademarks belong to their rightful owners, all materials to their authors. If you are the owner of the content and do not want us to publish your materials, please contact us by email –
seculartimes.com
. The content will be deleted within 24 hours.