It's a late-October afternoon at Benone Strand on the Causeway Coast in County Derry, and the low sun is collapsing between wedges of dense cloud. There's empty beach as far as the eye can see, apart from the odd horse-rider galloping through the shallows. My boyfriend and I are in swim shorts on the hard sand, despite the temperature being in single figures. But we're not shivering. Not at all. We've just boiled our bones in the Finnish-style Hotbox sauna perched at the water's edge.
We sprint into the sea to cool off and a shriek or two later are back inside to restart the hot-cold cycle, our hearts pumping as we take a seat on the wooden bench. As I ladle water on to the stones for a satisfying sizzle, the sauna's rectangular window affords a mesmerising framed view of the waves, the horizon and the darkening sky. This juxtaposition is powerful: an instant hit of happiness.
With its thermal-treated six-person interior and subtle lighting, Hotbox is one of the most stylish mobile saunas I've experienced – and I've road-tested a few researching the rise of sauna culture. For those unfamiliar with the phenomenon, authentic sauna is simply where "you pour water on the hot stones, sweat, have a cold plunge, then breathe fresh air before going back in the heat", says the British Sauna Society's Finnish founder Mika Meskanen.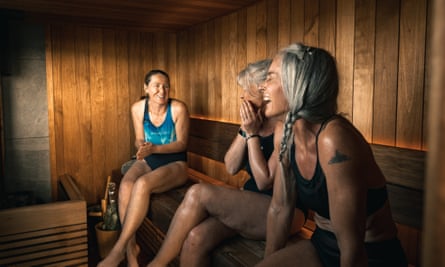 While we think of sauna as Scandinavian, there is archaeological evidence of the practice at Stonehenge and Orkney. But until now I hadn't heard about Irish sweathouses. As we sit with Hotbox owners Anna and Carl Isaksson, they enthuse about the 18th- and 19th-century Irish stone buildings that were an early sauna for rural workers, with hundreds to be found from Leitrim to Cork.
"One of the best preserved is actually here in Northern Ireland – at Tirkane, near Maghera," says Anna. "Sweathouses were built as stone mounds, always near a body of water, so you could cool down. They were for people who had rheumatism or fevers, with thick walls and a tiny entrance. Inside they'd build a fire, and when the stones got really hot, they'd put it out, scatter rushes on the floor, and throw water in to create steam. You'd crawl in, the door would be closed, and you'd sweat out your toxins before taking a cold plunge." Carl adds: "Some people think the practice might be older, originally brought here by the Vikings."
This fascinating backstory added another layer of interest to what became a passion project for Northern Irish architect Anna and former Swedish ski instructor Carl. While he grew up with sauna, she was converted after moving to Sweden to study. "The first time, after jumping in a freezing lake and then going back into the sauna," she says, "I realised that this lovely tingly-ness comes over your whole body and the heat feels so different."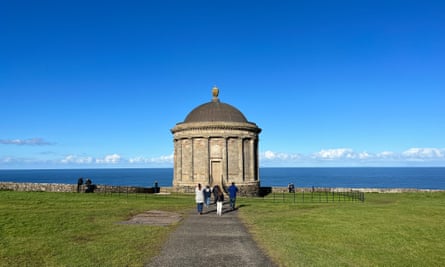 When the couple moved back to Northern Ireland in 2018, they would visit Benone Strand every week, all year round. "We'd come out of the sea and want to sauna the way we would in Sweden," says Anna. "And then I got hyperemesis [nausea and vomiting] in my pregnancy. The only thing that relieved it was getting in the water."
At the height of Covid, in May 2021, Anna and Carl opened their sauna, having worked on a build with designer Finnmark. "We wanted it to be functional but beautiful," says Anna. "But we couldn't have done it without a grant from Daera [Northern Ireland's Department of Agriculture, Environment and Rural Affairs]."
Are there differences between Irish and Swedish approaches to sauna? "Where I'm from, it's a big part of the culture," says Carl. "It's more normalised, solitary even, whereas here it's social and you have people who base their personality around being a sauna person." Anna adds that the local community swiftly embraced the project. "It's wonderful that everyone who comes is in such a good mood," she says. "Some people even sing."
It's not just sauna, of course, that makes this coast so rewarding. After the Hotbox session we head to Sea Shed, an artisanal coffee shack on the dunes, with surfboards for hire. A few minutes' stroll away is our retreat for the weekend, a glamping pod at Benone Getaways, where we continue our water immersion theme in the hot tub, glass of fizz in hand.
We can't visit this corner of Northern Ireland without walking its world-class seven-mile beach. The next day, under blue skies, we follow the shore towards Downhill Strand, where parts of Game Of Thrones were filmed. Passing the spectacular Dunne waterfall, one of the tallest in the country, we remove our trainers to wade across the river mouth to Downhill. We then climb up to photogenic Mussenden Temple on the cliff-edge, once the library of the 18th-century Bishop of Derry, who also built the striking nearby ruin. From there we snake down through woodland past the bleak beauty of the Black Glen ending up on Castlerock beach, usefully connected by direct train to Belfast.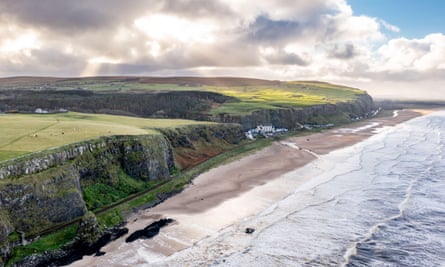 Equally dazzling, just west of Benone, is Magilligan Point, its peninsula boasting outstanding sunset views. Here at The Point Bar, near a 19th-century Martello Tower, we devour a thick pink wedge of salmon, its skin crisp, from across the water in Greencastle in the Republic. In fact, portions in these parts are generous and well-priced: at Anglers Rest in Benone, the nearest pub to our accommodation, a mustard-glazed ham shank is comically huge, while smoked haddock straddles an almost unscalable mound of sun-dried tomato champ.
Although we only sauna once all weekend, its benign effects linger, including, on our first night, an 11-hour sleep. "To have a good night's rest, that was the biggest thing about it for me," Anna said back on the beach. "But better still is when people overcome their fears. One lady had a real phobia of the water, and to conquer that was such an incredible thing. She said it was a reawakening: it would never have happened without the sauna."
The trip was provided by Tourism Ireland. Direct trains from Belfast to Castlerock take 1½ hours (single from £14). Hotbox sauna is open Friday-Sunday: 90 minutes from £25pp (booking essential). Glamping pods for two at Benone Getaways from £195 including hot tub
6 more wood-fired seaside saunas
Ty Sawna, Oxwich Bay, Penrhyn Gŵyr (Gower)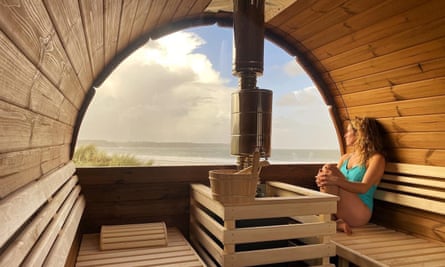 Wales's first beach sauna, the wood-fired barrel of Ty Sawna (from £15) sits on the sands of Oxwich Bay in south Gower, seats eight and offers unparalleled sea views through a half-moon window.
Steam & Salt, Tynemouth, North Tyneside
Idyllic King Edward's Bay boasts stunning views of the North Sea, and here you'll find Steam & Salt (from £10), a handy seaside escape if you're enjoying a city break in nearby Newcastle upon Tyne.
Beach Box Brighton, East Sussex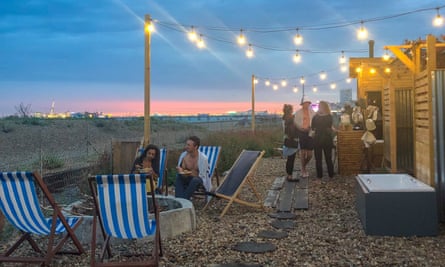 Arguably the country's most famous seaside sauna, Beach Box (from £12.50) first appeared as a pop-up in 2018. Today it offers two six-seater converted horse trailers complete with wood-fired stoves and a new 12-seater cedar sauna.
Pakefield Beach Salty Sauna, Lowestoft, Suffolk
Lowestoft Beach could well be England's most underrated stretch of sand: at its tip is the suburb of Pakefield, which is home to one of the country's newest pop-up saunas. Salty Sauna opened last month at Cliftonville Road, and will later move (date TBC) to a permanent spot on Grand Avenue.
Haar Sauna, Shetland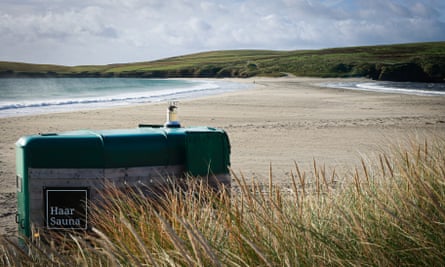 A converted horsebox painted in British racing green, Haar Sauna (from £15) is furnished in local Scots pine. It has already travelled across Scotland: originally sited in Aberdeen, it's now on St Ninian's Beach, overlooking St Ninian's Isle, Shetland.
Steampunk Sauna Dover, Kent
The mobile baby of Folkestone-based tattooist Tim Smithen, wood-fired Steampunk Sauna (from £15) is currently on Dover Beach near the new Clocktower Square on Marina Curve.
Denial of responsibility!
Secular Times is an automatic aggregator of the all world's media. In each content, the hyperlink to the primary source is specified. All trademarks belong to their rightful owners, all materials to their authors. If you are the owner of the content and do not want us to publish your materials, please contact us by email –
seculartimes.com
. The content will be deleted within 24 hours.