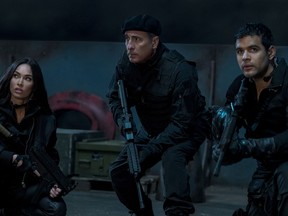 Reviews and recommendations are unbiased and products are independently selected. Postmedia may earn an affiliate commission from purchases made through links on this page.
Article content
The band of international mercenaries known as the Expendables are brutal, brazen and messy, yet they ultimately get the job done. Much the same can said of "Expend4bles," whose position in the franchise's 13-year chronology is embedded in its title. The movie is unsurprising and not especially ambitious, but it's agile enough to vault over most of its flaws.
Article content
Reportedly the last "Expendables" to feature series co-founder Sylvester Stallone, the film is structured in part as a solo for Jason Statham. His character, Lee Christmas, is banished from the team by its oily CIA handler (Andy Garcia) after a failed mission in Libya that doesn't go all that well for Stallone's Barney Ross. But Christmas soon teams up with one of the many first-time cast members, Thai action star Tony Jaa (playing an Expendable-type operative temporarily retired into Buddhist-style repentance). Then the pair reunite with the other freelance warriors, led by Gina, with whom Christmas has an unsettlingly savage off-and-on relationship. For these two, hand-to-hand combat is foreplay.
Article content
Gina is played by Transformers veteran Megan Fox, another newbie. The other major newcomers are British actor Jacob Scipio (playing a junior version of "Expendables 3" star Antonio Banderas); Vietnamese American model-actress Levy Tran; and rapper Curtis "50 Cent" Jackson, a wooden actor whose best moment as a performer comes when one of his songs plays from a boombox. Returning from previous installments are aged beefcakes Dolph Lundgren (now with a moptop) and Randy Couture.
Article content
The one other significant addition to the lineup is Iko Uwais, the dazzlingly athletic hero of such Indonesian action flicks as "The Raid." He eventually gets to demonstrate his skills in a one-on-one battle, but most of the time he's wasted in a role familiar from a dozen James Bond movies: the psychopathic arch-villain with a thick accent.
That "Expend4bles" would have such a figure is to be expected, since the movie's action turns on a mad scheme, typical of 007 flicks, to somehow profit by blowing up much of the world. (The plan's mastermind, whose identity isn't hard to guess, is cutely code-named "Ocelot.") The ticking time bomb on the ship where much of the action transpires is a nuclear warhead.
The less thought given to this premise, the better. It certainly doesn't seem that the writers – four are credited – paid much attention to it. They and director Scott Waugh (who made 2012's "Act of Valor" with a cast of active Navy SEALs) are more invested in retail than wholesale destruction. Admittedly, the distinction between the two blurs as the movie's body count burgeons. But most of the victims die in intimate ways – a knife to the throat is perhaps the most common one – rather than in impersonal explosions.
Article content
In smaller-budget movies made in their homelands, Jaa and Uwais have exhibited the sort of physical dexterity best captured in long, unbroken takes. But Waugh takes a typical Hollywood approach, cutting frequently and spinning the camera so that it appears more calisthenic than the performers it's filming. The effect is not elegant, but it is lively. If the movie never soars, it also never drags.
Essentially, "Expend4bles" is a comedy. Its plot isn't meant to be taken seriously, and the heroes mutter tough-guy quips as they dodge bullets and break bones. These gags usually aren't very funny, and are often lost to battle noise or mush-mouthed delivery. But then the film's humor comes more from violence that verges on slapstick and setups that are amusingly absurd, such as a motorcycle race that zooms from a ship's bowels to the top deck of the vessel the villains are piloting toward a planned international incident. Locations flash on the screen to place the movie's events in real-world sites on three continents, but the universe in which the Expendables go to work is an R-rated cartoon.
– – –
Two and one-half stars. Rated R. At theatres. Contains strong, bloody violence throughout, coarse language and sexual material. 103 minutes.
Denial of responsibility!
Secular Times is an automatic aggregator of the all world's media. In each content, the hyperlink to the primary source is specified. All trademarks belong to their rightful owners, all materials to their authors. If you are the owner of the content and do not want us to publish your materials, please contact us by email –
seculartimes.com
. The content will be deleted within 24 hours.