Key events
62 min Zinchenko has been terrific today, certainly the most creative player on either side. That box midfield must be so difficult to defend again, even when you three dogs of war.
59 min Arsenal appeal unsuccessfully for a penalty when Zinchenko's fierce long-range shot hits the charging Tarkowski on the arm and ricochets wide. He was outside the area, although it probably was a handball under the current laws.
58 min Rice picks Doucoure's pocket in a dangerous area and pokes the ball forward to Odegaard. He slides it through to Nketiah, whose shot from a tight angle hits Tarkowski and goes behind for a corner. That was very good from Rice, who read the play superbly.
58 min Doucoure floors Saka, who winces as he gets to his feet. He's nowhere near his best at the moment, and looks a bit worn down by the treatment he is getting from opposition defenders.
56 min Zinchenko again releases somebody on the left of the area with a lofted pass, Trossard this time. His low cross beats Pickford and is kicked away by Mykolenko as far as Vieira, whose shot is blocked. And then play is pulled back for an offside against Trossard.
55 min Eddie Nketiah had only had eight touches in the game, the fewest on either side. Arnaut Danjuma, whose presence on the field I'd sincerely forgotten, has had 12.
54 min Arsenal continue to probe, press and other five-letter words beginning with pr-. Saka's deep cross is headed dangerously back across goal by Trossard, and Tarkowski stretches in front of Nketiah to intercept. Good defending.
52 min The longer this stays 0-0, the more empowered Arsenal will be if they do win it. It's football's eternal dilemma: would you prefer a stress-free 4-0 win or a stressful 97th-minute winner? The latter, clearly, but only if you know it's going to happen, which you don't.
50 min Zinchenko's long-range stinger is blocked by Tarkowski. The VAR team check for handball but are thwarted when replays show Tarkowski's arms were tucked into his body.
49 min "Losing Martinelli for any length of time would be a pretty big blow to Arsenal," says Joe Pearson. "He's played nearly every minute of every match so far this season (excluding this one, of course)."
It would, though Trossard is a very good replacement. The odd short-term injury might not be a bad thing, as it might help Arteta trust his back-up players more. He'll have to rotate more in the Premier League this season.
48 min Gabriel is booked for a foul on Beto. Young's free-kick isn't the best and Saliba clears.
46 min: Good save from Pickford! A flying start from Arsenal. Rice slides a careful pass into Odegaard, on ther right side of the area. He cuts inside Branthwaite and hammers a shot that is pushed away to his right by Pickford. On reflection Odegaard should have done better; it was too close to the keeper.
46 min Peep peep! Abdoulaye Doucoure begins the second half.
Half-time reading
Half time: Everton 0-0 Arsenal
The last touch of an intriguing, uneventful half is a niggly foul by Saka, who has temporarily misplaced his joie de vivre, on Onana. That's another small victory for Everton, who have frustrated Arsenal with their defensive excellence. Gabriel Martinelli had a goal disallowed for a modern offside; that aside, Arsenal created little. Everton created even less, but they'll hope to change that in the second half.
45+4 min Arsenal have used one of their substitution windows, so I wonder if we might see Gabriel Jesus replace Eddie Nketiah as early as half-time.
45+3 min Saliba goes down holding his face after a challenge with Beto. The referee tells him to get up, so Arsenal kick the ball out of play. Beto caught him with a flailing arm, no more or less, and VAR doesn't get involved.
45+3 min "Gary Neville's increasingly tenuous reasoning as to why that was not offside reminded me of how I try to keep face when my kids find out that I'm completely wrong on something," writes Niall Mullen. "No, I did smash a glass but only because you and your sister were making too much noise."
45+2 min Young takes a shortcut through the back of Trossard and is booked.
45+2 min Gueye's cross is chested down by McNeil, whose half-volley on the turn hits Saliba. Some of the home crowd appeal for a penalty but there was nothing in it.
45+1 min Four minutes of added time.
45 min Arsenal must be starting to experience deja vu, though there is an upside to that as well: by winning the game they can change the narrative, the record or whatever we're calling it these days, thus telling their subconscious that this season is different.
It's a really important second half for them. If they don't win today it'll be a big blow, even this early in the season, and another failure the wrong side of Watford Gap.
44 min Zinchenko's brilliant lofted pass releases Vieira on the left side of the area. He tries to cut it back to Nketiah but Branthwaite deflects the ball to safety. Vieira might have been offside anyway.
42 min "Another VAR LOL," says David Bowen. "Would anyone in the ground or watching on the old telebox really be overcome with righteousness injustice if that goal stood? Or put it another way, if there was a cricket style DRS would any Everton player referred that? Actually they were appealing so they might have done. Oh I don't know any more Rob. Do you? Does anyone?"
No. One of the most miserable things about VAR is watching grown men – on the pitch and in the crowd – trying it on the moment the ball hits a defender's hand, even if that defender is on all fours, unconscious, 0.0001 millimetres away from the ball, and two yards outside the penalty area. The hell with it.
40 min McNeil's long-range shot is kicked away on the edge of the area. Arsenal break but Everton's back nine get into position very quickly. Eventually White cuts inside, plays a one-two with Odegaard and hits a rising drive from 20 yards that is comfortably saved by Pickford. I think that's the first shot on target at either end.
39 min Sean Dyche will be thrilled with this first half, which is a slightly odd thing to say given that Everton have barely had a kick. I suppose the same was true of Arsenal at Anfield in 1989; all that mattered was having a clean sheet at half-time.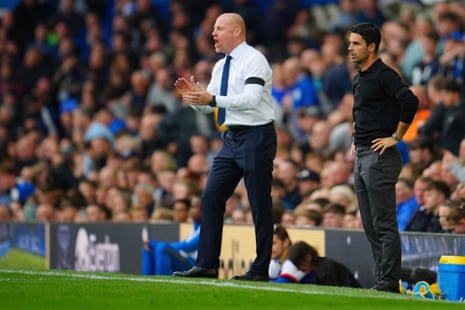 38 min "Not that hard," says Rick McGahey of the disallowed goal. "In an offside position. Yes. Was ball played "deliberately" by opponent? No, a deflection and not off an attempt to play the ball (an attempt would be 'deliberate' even if it didn't go where it was meant to). So, attacker in offside position, didn't get ball from a deliberate play by opponent, offside."
Isn't that exactly what I said? I agree with you, though I'm not sure about the need for a touch to be deliberate. Gabriel was playing the ball nowhere near Nketiah, so shouldn't the deflection just be part of football's natural variables? Not sure, I'd need to think about it. It's befuddled me since that Karim Benzema goal was disallowed in the Champions League final.
37 min Mykolenko is very late on Saka, who goes down in pain. There's a VAR check for a red card but it wasn't that bad. He should have been booked though. In fact the referee didn't give a free-kick so he must have followed the ball.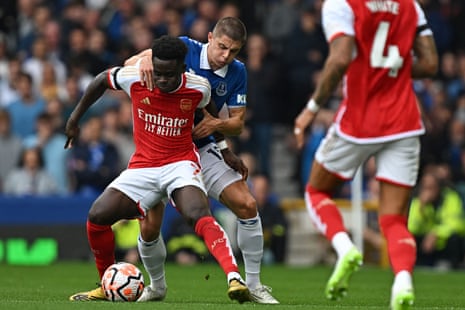 34 min The disallowed goal was the only time Arsenal have really opened Everton up. It's a slightly odd game – the atmosphere is really flat, like a library, and Everton aren't getting after Arsenal at all. But they are defending very well.
32 min "Ramsdale will always be a fan favourite and he is a top-class goalkeeper," says Chris Lambert. "Whatever Arteta sees in the background he could never publicly discuss replacement – he'd catch far too much flak. If that is his plan, it'll be executed by the inch not the mile."
Surely it's better to rip the plaster off like Guardiola did with Joe Hart? Then again, I suppose Alex Ferguson was a master of getting rid of players in stages. My instinct is it's a bad idea, if that is what Arteta is doing. Maybe he does just want two high-class goalkeepers and thinks he can keep them both happy.
Denial of responsibility!
Secular Times is an automatic aggregator of the all world's media. In each content, the hyperlink to the primary source is specified. All trademarks belong to their rightful owners, all materials to their authors. If you are the owner of the content and do not want us to publish your materials, please contact us by email –
seculartimes.com
. The content will be deleted within 24 hours.