Key events
Simon James writes that Telemundo's commentators are saying the game will restart in 15 minutes.
A few Brazilian players decide to confront Argentina's squad for some reasons. Words and gestures are exchanged, but they separate.
Argentina's players are back at the mouth of the tunnel. They tentatively jog onto the field.
A larger scale from field view …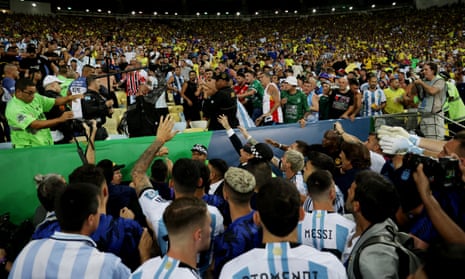 On a happier note, here are some fans kissing …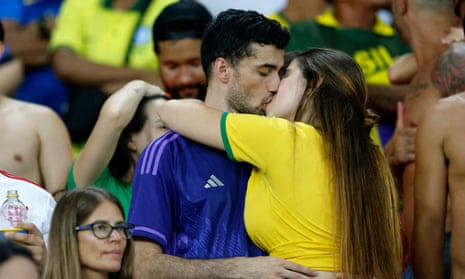 Marco emails: "Commentary on Globo (Brazilian media) have said that this brawl was instigated by Brazil supporters jeering and booing over the Argentine anthem. The Argentina squad, along with Marquinhos, are trying to get the crowd to stand down, but Messi along with the rest of them are walking off the pitch and it looks as if the match isn't going to go ahead. Deplorable scenes."
What we're seeing now is a little calmer. Maybe people have realized they need to knock it off if they want to see Messi play – this could, of course, be the last time he plays in Brazil.
Don't expect kickoff to be immediate in any case. Argentina's players were last seen going through a door and closing it behind them.
This looks bad. Very bad.
Argentina's players had gone over to the corner with the troubles to appeal for order. They just marched, led by a stone-faced Lionel Messi, across half the field and into the tunnel.
Speaking of maintaining order, our referee is Piero Maza of Chile. He has a considerable amount of experience in the Copa Libertadores but not as much experience in national-team games.
This is unfortunate. We're seeing what appears to be one corner of the stadium, and things are being thrown where things should not be thrown. Police are in the middle of a lot of people wearing Argentina's stripes.
We will not be kicking off on time.
I just watched an insurance ad in Spanish. I have no idea what happened. Maybe for the best.
Kickoff should be … soon.
Is it the old-school samba? New-school chaos?
Fernando Diniz – an interim coach, though you could argue that any coach of Brazil is a game or two away from the end of his tenure – is looking toward long-term gains.
We've got just enough time for you to read all about it before kickoff …
Brazil
Alisson; Emerson, Marquinhos (c), Gabriel, Carlos Augusto; Gabriel Martinelli, Rodrygo, Raphinha, Andre, Bruno Guimaraes; Gabriel Jesus
Vinicius Junior, now injured, and Renan Lodi are the only absentees from the starting XI that lost to Colombia a few days ago. Gabriel Jesus and Carlos Augusto are the replacements.
Argentina
Martinez; Molina, Acuna, Romero, Otamendi; De Paul, Lo Celso, Fernandez, MacAllister; Alvarez, Messi (c)
Changes from their 0-2 loss to Uruguay, their first setback in qualifying: Acuna replaces Tagliafico, Lo Celso replaces Gonzalez.
Around the world today …
I was lucky to get in front of a TV just in time to see Greece and France trading goals. Final score: 2-2, the first blemish on France's record. Greece still took third in the group and must go through the playoffs.
That's also the fate awaiting Wales, which needed a favorable combination of results and did not get them.
The most interesting fixture over the next six hours will be in Mexico City, where Mexico trail Honduras 0-2 after the first leg of their Concacaf Nations League tussle. That game immediately follows this one.
Welcome to a crucial World Cup qualifier between first-place Argentina and fifth-place Brazil, where …
… wait … do the standings matter?
CONMEBOL, the South American federation, has the simplest and fairest qualification system. No comparisons of runners-up across disparate groups. No draw that creates a "Group of Death." No "playoff to get into the group stage that determines who goes to the playoff."
Ten teams. Double round-robin. That's it.
It's a fair format. It's also quite forgiving.
So Brazil are currently in fifth place, looking up not only at eternal rival Argentina and historically accomplished countries such as Uruguay and Colombia but also at Venezuela. If not for a three-point penalty to Ecuador, Brazil would be trailing them, too.
And they would still be on course to qualify for the next World Cup, which will include a mind-boggling 48 teams.
Even if things were truly horrific, Brazil would have nearly two years to fix the problem(s). The last games in this competition are in September 2025.
So if you're just tuning in to see Messi and Gabriel Jesus without paying attention to the standings, you can be forgiven. After tonight, we'll be one-third of the way through our 18 rounds. Then in a couple of years, if the Earth is still intact, Argentina will definitely be in the World Cup, and Brazil will almost definitely be there as well.
Enjoy this game for what it is – a bit more meaningful than a friendly, a bit less meaningful than a Copa America or World Cup elimination game.
Beau will be here shortly. In the meantime, here's more on a certain Lionel Messi's role in tonight's game:
Lionel Messi has felt many different emotions at the Maracanã. It was in the iconic Brazilian stadium that he suffered his biggest career defeat: the 2014 World Cup final. The loss brought strong criticism that shook the Argentina talisman for years. But it was also in Rio that he won the Copa América in 2021, his first title for the national team and which paved the way for the 2022 World Cup in Qatar.
Two years after winning the South American title, Messi returns to the Maracanã on Tuesday for a World Cup qualifier at the perfect moment. Facing a Brazil in crisis, lost and full of instability since their elimination in Qatar, Messi could have his final coronation, with the recognition and applause of the rival fans in what is one of the greatest classics in world football.
"It would be an achievement for Messi to be cheered in Brazil. It's a game at the Maracanã, a world classic game," says the former Brazil left-back Adriano, who played with Messi between 2010 and 2016 at Barcelona.
"I'd approve if it happened. It would really honour his career. It would be historic. Even though he's Argentinian, it's recognition for what he represents to world football."
You can read the full article here.
Denial of responsibility!
Secular Times is an automatic aggregator of the all world's media. In each content, the hyperlink to the primary source is specified. All trademarks belong to their rightful owners, all materials to their authors. If you are the owner of the content and do not want us to publish your materials, please contact us by email –
seculartimes.com
. The content will be deleted within 24 hours.